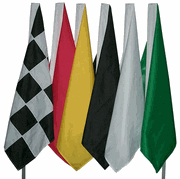 Flags: We use a single layer of RipStop fabric: a light-weight, durable nylon, to create flags that won't tire you out after a five-division show. The RipStop material is very resistant to runs and tears even if the flag gets snagged on a fence. Also, the material is water resistant so it doesn't get heavier on a damp, foggy night. This is the same fabric used in parachutes and hot-air balloons. But, please remember to keep it away from hot headers, since the nylon is prone to melting.
Our two-color flags are made by sewing two pieces of fabric together then cutting away the unwanted portions. This way your checkered flag is not much heavier than a single color flag and you don't have the stiffness associated with silk-screening. Also, your move-over flag won't look like it has a green stripe when the lights are behind it.
Flag Sizes: Our standard flags come in three sizes: 25″ square, 25″ x 30″ oblong, and 30″ square. We now also offer 20″ x 25″ and 20″ x 30″ flags on a special order basis. All sizes are the same price.
Flag, Bag & Stand Sets: Price $150 ~ $435
 Individual Flags: Price $20 ~ $50

  Standard Flags: Checkered, Red, Yellow, Green, White, Black, Blue

Two Color Flags: Ambulance, Meatball, Move-Over (Yellow), Surface, Restart, Disqualification (Black w/White X),

  Special Order Flags: Pit Open & Closed, Oil, Laning, Mechanical, Scoring Yellow, Move-Over (Orange), Close-Up, Move-Over (Reverse)

Special Checkered Flags: Trophy Checkered, Pink Checkered (Breast Cancer awareness)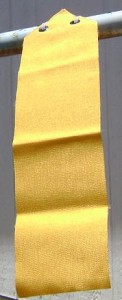 Cage Streamers: Price $25 per dozen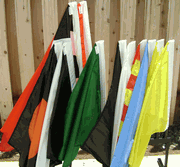 International Flags: Price $25 ~ $40
Red, Check (80x100cm) Green, Blue, Mechanical, Unsportsmanlike (60x80cm)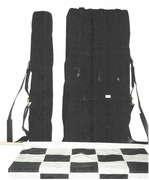 Flag Bags: Single, Double, and Triple Section – Price $50 ~ $100

Flag Holders: 9 or 12 Hole – Price $150